Taxi App- Flutter Complete Taxi Booking Solution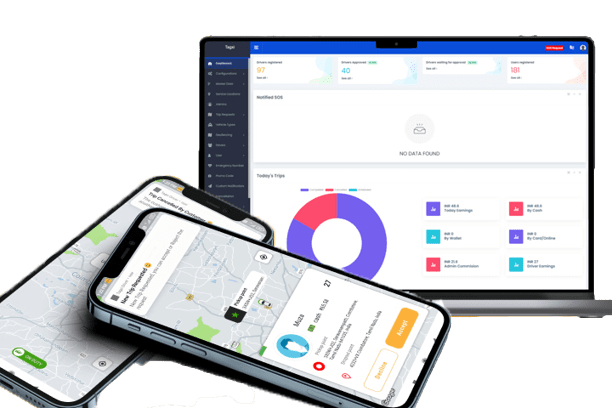 A complete Taxi App Solution Ready for deployment. Your purchase is protected by 365 days customer support. 
You Only have a regular license when you purchase the source code from our Agency. 
Use, by you, in a single end product. The total price includes the item price and a buyer fee.
365 days support
1 year free VPS hosting
Play store deployment
App store Deployment
$100 Ad credit

Set pickup/Drop location by map
book a ride & Realtime ETA
Show cars on map in Realtime
Book A Schedule Ride
Save Favorite Location
Apply Promo codes
Choose Payment Method as cash/card/wallet
Add Money to Wallet by Debit/Credit Card
Localization Supports
Multiple Currency Support
SOS-Realtime Notify to admin
Referral Program
In-App chat B/W Driver & User
Ride History with Trip status fitter
Ratings & Review
Cancel Ride with dynamic cancellation reasons
Switch Into the shift
Manage Documents & Approval
Earnings Dashboard
Realtime location update during On trip
Start Ride with Otp Feature
Cancel Ride with dynamic cancellation reasons
Add Money to Wallet by Debit/Credit Card
Localization Supports
Multiple Currency Support
SOS-Realtime Notify to admin
Referral Program
In-App chat B/W Driver & User
Ride History with Trip status filter

Realtime Dashboard
Configure Needed documents
Roles & Permissions for admin app menus
Settings & Configurations
Geofencing & Zone creation
Multiple currency support by creating service location
Price configuration for ride now/ Schedule ride
Taxi App Includes Heat Map
Gods Eye(Map view of drivers)
Trip Request Management
User & Driver Management
sos Number configurations
Promo code configuration
Surge Price & Timings
Cancellation Reasons Configurations
complaint Category & Complaint state Management
Send Custom Push Notifications to the user & driver
Reports- for user, driver & Travel & Financial Reports
FAQ Management
Ratings & Review Management
Live Tracking each Request
Airport Pickup/Drop Fee Configs
Realtime Tracking drivers on Map
Driver filters On Map
Book a Ride
Book a Schedule Ride
Realtime Trip Request status
Detailed of each Ride
Different Payment Gateway
Stripe
Paystack
RazorPay
Cashfree
For Ethiopian Market TeleBirr Is now Accepted