Have you ever wondered about how you can make money online while you leave in Ethiopia?

You won't be the first person to search for how to make money online in Ethiopia. There are more than a million searches happening about this topic worldwide.
In our country's context, the way to make money online is very narrow. Even if you have a big audience from different social media channels monetizing it will be hard on a platform like Google.
As of writing this article google ad platforms are not available in Ethiopia. This means to monetize your channel first you need a person who lives abroad. This person can help you to administrate your google platforms like YouTube while you keep creating the content.
Even tho google lag behind in the Ethiopian curators market this won't be a problem for long. Google is changing its monetization rules recently. We hope that Ethiopia will be added to the list to work and earn income on the google platforms.
I wrote about google because most of us think of youtube when it comes to making money online. Even tho you can't make ad revenue with google yet, there are a lot of ways to monetize your followers. You can make money online without being totally dependent on the platform.
One simple way will be to sell your Idea with print products.
Print On Demand Online Business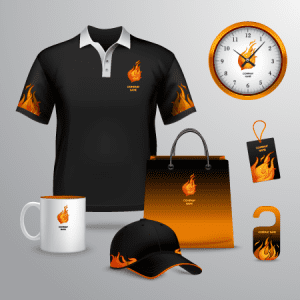 It doesn't matter what kind of topic you discuss with your audience. As long as your audience exists you can sell the topic with printed products.  First, you identify a list of words your followers refer to from your program or channel. Then you can hire a graphics designer, or if you have the skills you can do it yourself.
Create a beautiful and meaningful print product like a t-shirt, cup or mug, blanket, or whatever print material you think will resonate with your audience.
Now you can use your own platform to sell your merch with free advertising. This is a very effective way to make money online from your social media followers. Note: this only work if you have a decent follower on social media also engagement with your content will determine how much of your followers will convert to sales.
I hope you get a new perspective on how to monetize your audience and make money online, If you need a good go-to-market plan feel free to contact me. If you are new to my agency you will receive a free 20-minute consultation so that you can take advantage of my marketing skills.
What if we don't have any followers or social media presence?
Short answer, You still can make money online. By the way, this article doesn't teach you how to make USD because most of us expect or think making money online is like making $$.  Even tho there are a lot of ways to make USD online in this article I only show you how you can take advantage of being the early adapter of the Ethiopian online community and make real money by utilizing online platforms.
This is where social media marketing becomes handy. Even tho you don't have any follower base you can take advantage of paid advertising to make money online.
You may think wait I'm here to learn how to make money online not to spend one right? Here are some facts for your soul. There is two way you can make money online. One is to trade your time for money, like the one we discuss above. You spend your valuable time creating content that your audience love and grow that audience throw time and monetize it the other option is to trade your money in order to make more money.
Realistic Business Ideas
In real business in order to make money you need to invest something and that is your time or money. So, if you don't have any followers your option will be to invest small money to make big money with a big return. One thing about online business is that you are not bounded by your physical location and this gives you a big advantage and good return on your investment than any local investments you can make.
If I clear the way how you can make money online without followers the second step will be to find good offers or products that you can promote that will yield a good return from your investment.  To demonstrate a good investment I will use a simple example so that I can finish this article without boring you. 
Make Legit Money Online in Ethiopia
Let's say you heard someone who wants to sell their car. Now that you know about online investments you can take advantage of moments like this. You will speak to the seller to give you a chance for you to bring a client then you can start taking good pictures of the car and write down the details about the car.
Now that you have everything you need for your online marketing you can hire or collaborate with other market experts. And list the product or service for sale. At this point, you can send the right kind of buyer to your product with quality marketing.  So all this is based on investment, if you wonder about how much you need to invest on average here at David market success, our clients spend between 3000 to 5000 birr a week on social media marketing with guaranteed results.
I use selling a car as an example but whatever you think will give you a good return if you spend between 3000 to 5000 birr a week, that's the right product or service to invest on. If you have any dought on how to invest in social media marketing to make more money online feel free to contact me, I will be glad to share some successful client experiences and the right guide so that you don't have to make a guessed decision.
Investment free Online Business in Ethiopia
Some of us are not ready or don't want to spend our hard-earned income yet, right? That won't stop you from making money online in Ethiopia. Have you ever heard about affiliate marketing?
What is affiliate marketing?
Affiliate marketing is a process where people like you and me earn a commission by promoting a product or service made by another retailer or advertiser using an affiliate link. The affiliate partner has rewarded a payout for providing a specific result to the retailer or advertiser.
Typically, the result is a sale. But some affiliate marketing programs can reward you for leads, free-trial users, clicks to a website, or getting downloads for an app.
We even talked about affiliate marketing earlier when we spoke about investment online business.  You can generate sales for other business owners by using your skills of communication or friend lists.
It will be easy to demonstrate this with an example: Let's say you are an accountant. You can leverage your client base to sell online ERP software that will help your client's business.  In fact, our Agency has an affiliate program for our ERP Software called Zemenawi Negade.
Even tho I mentioned accountants, anybody can join our affiliate program to earn a 100% sales commission. You can visit the affiliate program using this link to Zemenawi Negade.
The best thing about our affiliate program you don't need to invest money to earn your commission. Like I said earlier you can promote the service for your clients or friends who can benefit from the software.
Conclusion:
So far I tried to explain the easiest way to earn money online. But this may not be enough for some people to take action. If you follow the steps above you are assured to make money online. For those of you who need more information about other ways to make money online, you can subscribe to our news later to get updated info in your mailbox.